The Basketball section at the Holbrook Club caters for male and female adult players who represent the club in the Sussex Basketball League.
The club are keen to increase participation and welcome anyone eager to try the sport.
Home night is Monday 7.00pm until 10.00pm and training is free to club members.  There are 3 free taster sessions on offer to prospective players – so there really is no excuse not to try!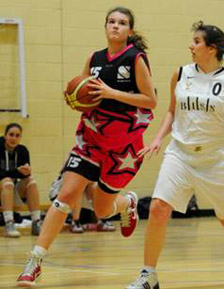 The mens team have recently rebranded as the Holbrook Wolves and with an influx of new talent are enjoying  a more competitive season.
They welcome juniors looking to find an adult club and experienced players, especially tall ones!
Following a number of departures pre-season the Holbrook Allstars Ladies team are currently looking for new players to join them.
So if you are a youngster looking to step up into adult basketball, a returning player eager to get back into playing or new to the area then this is the team for you.
For more information on ladies basketball at the Holbrook Club please visit www.holbrookallstars.co.uk