Keeping the Kids Active
Children spend twice as long playing on screens as they do playing outside according to a 2016 survey funded by Persil as part of their 'Dirt is Good' campaign. The survey also found 74% of 5-12 year olds spent less than 60 minutes playing outside each day, whilst UN guidelines require prisoners to have at least an hour of exercise outside every day!
With these worrying statistics set to continue with the advent of more and more technology, we look at how you can keep the kids active and healthy with some top tips to get them moving more.
Transport
Think about how the kids get to places;  is there the option to ditch the car more often and walk instead with them? If you are coming to the Holbrook Club could you walk rather than drive or park further away and walk from there if it's too far to walk from home. Not only will this help everyone's fitness levels, it's also better for the environment and your pocket too!
Involve Everyone
Commit to get fit as a family – set yourselves some goals which you've all agreed on and are achievable but not too easy! With everyone joining in and starting to see progress and hitting targets it becomes a fun challenge and everyone is more motivated to try and reach the next goal. Did you know 14-17 year olds can have their own free of charge membership card as part of your Holbrook Club membership and can use the Club unaccompanied? You can bring the under 14's with you free of charge too so get the whole family involved.
Buddy Up
Kids are sometimes reluctant to try new activities and sports by themselves. If they have a friend to come along with them it can make it easier for them to try out an activity, which they may well find they enjoy and want to continue. Find out which of your friends have Club membership and bring the kids together to join in – they'll have fun and get fit at the same time. We offer tennis and Junior Gym for the children and there are football and dance classes available – with this range there is something for everyone to try. Our regular discos are a great way to dance your way to fitness too!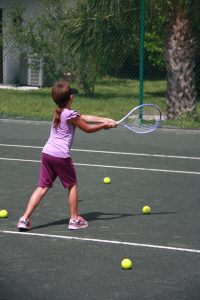 Gadget Free Time
Let the kids know they can have time on their ipads, tablets, X-box or Playstation once they've done some exercise. Help them learn life is about balance and technology is fine as long as you're moving about and exercising as well. For the hardcore technology loving kids you could consider some fitness technology – they love tracking their steps and trying to 'beat the tech' so if you can't get screen free time, incorporate the technology into their fitness goals and get them exercising!
If you'd like some more tips to help get the kids active or you want to arrange a membership card for your 14-17 year old as part of your Holbrook Club membership, please talk to the team and we'll be happy to help.
Social Sharing