Spotlight on Fake Festival Bands 2017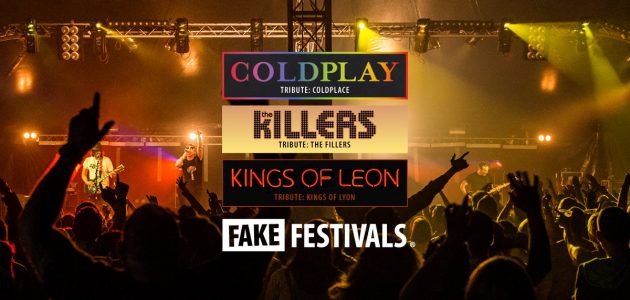 At The Holbrook Club we're excited that Fake Festival 2017 is just around the corner. It will be back with a bang on the 3rd June with another awesome line up of top cover acts. The line up this year includes some of the best tribute acts to some of the best bands.
Headlining this year will be The Kings of Lyon, The Fillers and Coldplace! You can pick up Early bird tickets until 3rd May and then advanced tickets will go on sale until 2nd June.
To get you ready, here is a sneak peek into the headline acts:
Coldplace
Coldplace are the world's leading tribute to Coldplay. They've been touring for over 12 years and have performed over 600 times throughout the UK and abroad. The tribute band was formed by a group of die hard Coldplay fans and their passion and commitment is clear in the quality and accuracy of their performances. They have even appeared on Sky News, BBC Radio One and Two and The Gadget Show and to have played at festivals along with Bob Geldof, KT Tunstall, Ringo Starr and Roxette to name but a few. Pretty impressive!
It's fair to say they capture the feeling, energy and atmosphere of a live Coldplay show, so you won't want to miss them on the night. They perform with a great mix of strong vocals, visuals and entertaining crowd interaction.
The Fillers
Forming in late 2006, The Fillers became the world's first tribute band to The Killers and aren't just any tribute band. The 'real life' Killers know about them and some members of the band have performed alongside The Fillers and have given them unprecedented access to their workings.
Their dedication to creating the best show every time means they go beyond, making sure they have the best equipment including Nord keyboards, HiWatt amps and Craviotto drums. Attention to detail is definitely not lacking here, they well and truly capture the look and sound of the American rock band so if you're a fan, you'll love them on the night.
The band travel around the world and have performed to audiences of 35,000 people. They definitely do the chart topping quartet justice and we couldn't be more excited to have them performing here on the 3rd June!
Kings of Lyon
If you're going to try and follow the BRIT award winning, platinum selling album band the Kings of Leon, then you've got to do it right and these guys put in their all. They've been smashing the tribute scene since 2009 and have climbed right to the top of the tribute leaderboard.
How have they done it? Their charisma, enthusiasm and extreme likeness to The Kings of Leon. This also helped them to achieve an o2 Academy headline tour that lead straight into their first European tour. This was closely followed by festival dates throughout Europe, the Middle East and the UK. Along the way they have gained a huge UK following and have been able to perfect their Kings of Leon show.
St Catherine's Hospice
Although St Catherine's Hospice are not a tribute band they are an extremely important part of the Fake Festival. They are our nominated charity for 2017 and therefore a number of our events throughout the year are to raise money and awareness for the charity. They are a local charity that provide expert hospice care in West Sussex and East Surrey. They will have a stand at the Fake Festival along with collection buckets so you will be able to support the charity however you can.
You're not going to want to miss these three amazing tributes so make sure to get your tickets now. It will be possible to buy tickets on the door on the day at an increased rate, but get your tickets early and start looking forward to a fantastic, family friendly night.
We look forward to seeing you there!
Social Sharing