Salvo Rifle Club
Salvo is a friendly, independent rifle club based at the Holbrook Club.   The members are ladies, gentlemen and juniors of all ages and abilities.  We shoot two disciplines, prone and Light Sporting Rifle (LSR), using .22 target rifles and paper targets in an indoor range.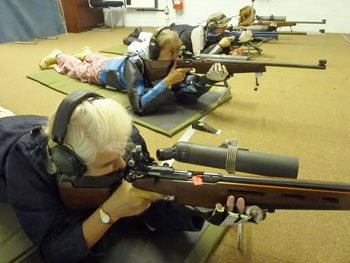 We welcome all new members whether you have previous shooting experience or have never picked up a rifle and 'fancy a go'.
Our aim is to promote target rifle shooting in a safe and friendly environment.  It is one of the only sports where men and women, adults and children, disabled and able-bodied can compete on equal terms.
The first step for those wishing to try their hand at this addictive sport is our comprehensive 4 week pre-probationer course.  This focuses on range safety and gives an overview of both the shooting disciplines offered at Salvo.
For information, contact the Holbrook reception or email: salvohorsham@gmail.com 
Alternatively, follow the link below for more information: