Sophie's Studio
Sophie's Studio makes dance fabulously accessible to dancers of all ages and abilities in Horsham. From Hip hopping babies to lovely dancing ladies, ex West End starlet turned dance teacher, coach and choreographer; Sophie's aim is to ensure students leave every class with a shimmy and a smile on their face. Confidence building, fierce fun with a sprinkle of technique, a focus on performance and a dance school just a little different to any other… Pop along to meet the SS gang and see for yourself!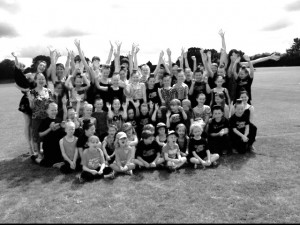 Hip Hop Street Dance
A way to improve your child's confidence and give them a chance to channel their creative  through the most popular dance style of the moment. A class that will nurture and encourage any little hidden talents.
Little Hip Hoppers (5-8 yrs)
Saturday 9:15-10 am
Middle-y Hip Hoppers (9-11 yrs)
Saturday 11:15-12:15 pm
Teen Hip Hoppers (12+)                                                                                                         Wednesday 6-7:15 pm
Ladies Jazz Dance Class
NO EXPERIENCE REQUIRED!!!
Thursday 7-8pm,
Put down the kids, housework, feather duster, job and partner for an hour a week and feel just fabulous! This hour is about you. Improve your dance  skills with other like minded attendees. No need to be an accomplished dancer, this class is for any age and any level, people who love to dance. From jazz dance, musical theatre repertoire, routines to big band classics, dancing with props, a burlesque or Bollywood themed week or any other theme or song you may desire to request, let me know, come along and we can all have a giggle together! Burn a few extra calories dancers and feel wonderful!
Musical Theatre Class
Ages – All (5-11yrs approx]
Saturday , 10:15-11 am,
Learning the techniques to be able to sing and perform together. A class to combine acting, stage blocking, dance, movement and song, combining all age groups learning to work together as is done in the musical theatre industry. A class to see all students excel in their favourite areas and home in on the disciplines they wish to improve on. Taught by musical theatre actress Sophie of Sophie's Studio who's aim is to bring out the very best in every student.
A fun filled session giving students the chance to learn, improve and build confidence through performance.
For further information please contact Sophie McEwan on 07788 415187 or email sophies.studio@yahoo.com.
All classes are £5.00 per session – initially on a pay as you go basis for the first month – payable monthly/termly thereafter.