Keep your children active this half term at The Holbrook Club Fit For Sport Activity Camp!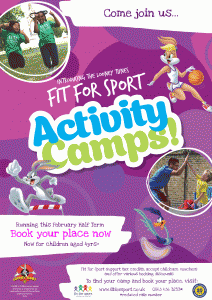 February Half Term Taster Day – Friday 19th 9.30am to 4.30pm
The Holbrook Club are pleased to announce a new partnership with Fit For Sport – the UK's experts in engaging and educating children – to deliver children's activity camps every school holiday!
Activity Camps are a fun and healthy alternative to traditional holiday clubs, offering an engaging approach to childcare for children aged 4-12 years old. Fit For Sport's experienced and fully qualified team will be delivering a wide range of activities this February half term, from team games to outdoor adventures; making sure your kids have fun, make friends and keep moving during the holidays.
New booking process
Booking your child's place on our activity camps has never been easier! Contact Fit For Sport's friendly booking team on 0845 456 3233 (reduced rate number) or visit www.fitforsport.co.uk. All online bookings receive a 5% discount!
Introducing Looney Tunes Thursday
Every Thursday at camp, Fit For Sport will be taken over by Looney Tunes madness – including themed activities and sports, special prizes and lots of lovely Looney Tunes fun!
All Fit For Sport programmes are Ofsted registered and run by trained and DBS checked activity professionals, with every member of the Fit For Sport team sharing a commitment to a common goal: To provide childcare in a safe and supportive learning environment where children can try new, fun ways to get their bodies moving and discover the benefits of leading a healthy and active life. Keeping active has never been so much fun!