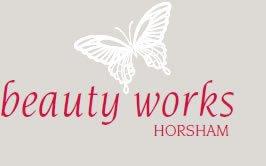 Beauty Works Horsham
Open six days a week, Beauty Works Horsham is open to male and female clients who want to look after their physical and emotional well-being.  For the past 16 years, we have welcomed clients into an elegant and comfortable treatment area where we offer luxurious beauty treatments and holistic well-being services.  We have wonderful testimonials from clients who have been with us from day one, through to the present.
The Holbrook Club and Beauty Works Horsham have recently teamed up as our passion is to inspire our members and clients to look after themselves physically and emotionally, leaving you feeling fitter, healthier and more self-confident.  In our busy, 21st century lives, we often forget to take some breathing space and so, as Christmas approaches,  Beauty Works has a couple of special package treats which can help you to reduce stress and nurture yourself.   However, we also offer Gift Vouchers so for those of you yet to find something for the special people in your life, this could be the perfect answer.
Treatment Package 1 : £70.00 for members of the Club (non members £83.50) : Treatment Time approx. 2 hours
Back, Neck, Shoulder Massage / Prescription Facial / Express Manicure or Pedicure
Treatment Package 2 : £50.00 for members of the Club (non members £64.50) : Treatment Time approx. 90 minutes
Indian Head Massage and Pick Me Up Facial
For more information on some of our treatments please click here or visit our website at www.beautyworkshorsham.co.uk.
Effectivephysio
Physiotherapy and Acupuncture Services
EffectivePhysio is a new physiotherapy service in the Horsham area run by Sue Cowley, an experienced physiotherapist in musculoskeletal physiotherapy and acupuncture. Sue owned a successful physiotherapy clinic in Hertfordshire for 6 years before moving to Horsham in July 2014.
At EffectivePhysio treatment will based on a thorough assessment and the patient's own goals. The aim is to regain function and prevent further reoccurance.
People of all ages and backgrounds with muscle, joint and/or soft tissue problems are treated at EffectivePhysio.
Conditions Treated:
Back pain and sciatica
Neck and arm pain
Joint, ligament and muscle pain
Arthritis
Jaw pain
Ergonomic advice and work related injuries
Workstation assessments
Headaches
Pregnancy back and joint pain
Post operative/fracture rehabilitation
Sports injuries
To book an appointment call  01403 750902 or 07719 987520 or email sue_cowley@hotmail.com – 10% discount to members of the Holbrook Club.