As the Holbrook Hound, I have been well-placed in the Grounds Team Office to see the frustrations that The Grounds Team  have had this year due to the sheer volume of rain water keeping the pitches too wet for play, or for maintenance.  Day after day, week after week the weather forecast has been checked and double checked, only to be disappointed yet again at the prospect of more rain on the horizon making any work on the pitches impossible.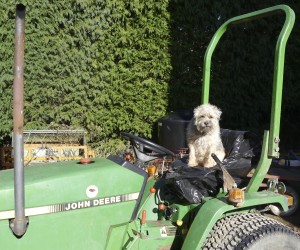 But, finally, I am pleased to report that for the first time this year, the mowers have been out – HOORAY!  Thanks to a spell of dry weather, the grass has been cut and the rollers have been out too.
The pitches are in good condition, despite the soggy winter they have experienced, and they are ready for the busy end of season, along with the catch-up games that need to be played following the cancellation of matches due to excess water on the field.