With the arrival of our pool table today (March 27th, 2014) the hunt is now on for players for 'TheHolbrook Club Pool Team'.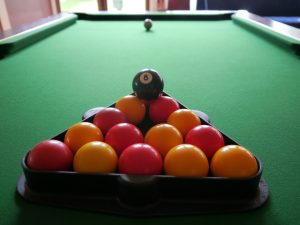 The Club is excited to be re-introducing this team to the Club, and we are very keen to enter a team into the Summer Pool League which starts in May, so if you are looking to play in a new Pool Team, please contact Paul Felgate to enrol now!  (open to men & women, aged 18+)
In addition, the pool table is available to play for all, at £1 per game – so no need to be in the team, come along and enjoy a game anytime.
Contact details for Paul Felgate:

Tel:  01403 751150

Email: paul.felgate@theholbookclub.co.uk
Below you can see the delivery and installation of our pool table;  it is quite interesting to see the inner workings of the tables mechanism, where the balls go once they  have gone into the pockets.
The balls were then racked up for the first time by our Food & Beverage Manager Eddie, who claims he cannot play Pool (but we're not convinced that's not a white lie!)  The honour of making the first break went to Andrew from our Grounds Team.