Kids stuck to the sofa? Get them up and active at our New Youth Fitness and Nutrition classes!

It can feel like you're fighting a losing battle to drag your children away from the TV and get them fit and active. If that's the case, our New Youth Fitness and Nutrition classes may be just what you are looking for. Combining fun sports and fitness activities with helpful hints and tips on the benefits of a healthy diet, this is the first step in transforming your children into the athletes of the future!
Unique classes with unique benefits
These new classes are the first of their kind in the area and are tailored to suit two age groups – 6-10 years and 11-17 years. Working both in teams and individually, the younger group will be engaged with fun equipment including balloons and beanbags, designed to work the whole body.
The older group will have the opportunity to use resistance bands, light weights and even boxing gloves (and pads!) alongside games suitable for their age group. Both classes combine fun fitness with games and activities designed to teach participants about the benefits of enjoying a healthy diet.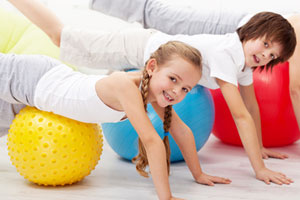 A healthy diet = a healthy body and a healthy mind!
Eating well reaps many benefits for physical fitness – including a healthy bodyweight, strong bones and muscles plus a reduced risk of conditions such as Type 2 diabetes. There is also lots of evidence to show that what our children eat will affect how they feel and their ability to concentrate at school. Forming great habits now will set them up to be healthy, nutrition-conscious adults.
Make small changes
Making small changes to your children's daily routine can still make the day fun. Youngsters won't see it as exercise and they will enjoy their new activities!
Limit screen time – getting your kids to turn off games console can be challenging. However, encouraging alternative activities will provide huge benefits.
Be active as a family – get involved with your children's play. Take them to the park or enjoy a fun day out that involves plenty of leg work.
Encourage walking or cycling wherever possible – whether to school or the local shops, short trips can be plenty of fun if you get out the scooter or bike.
Guide children to choose healthy foods (but don't dictate!) – involve them in buying and preparing food then eat the meal together as a family.

For more information, please see the website www.newyouthtraining.co.uk, 'like' the New Youth Training Facebook page or contact Petra on 07989 304529.