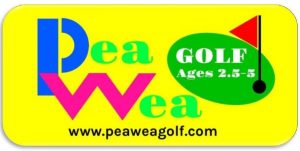 Starting 27th June 2019 between 10am and 11am
Pea Wea Golf is a new initiative that introduces soft golf to ages 2 ½ to 5 year old's.
This is an alternative sports activity which has been designed to help with the development of motor and social skills.
Pea Wea's learn through play via fun games and activities in relaxed and safe environment, all equipment is provided.
Class Age and Times
10.00 am to 10.30 am for ages 2 ½
10.30 am to 11.00 am for ages 3-5 year old's
Class Sizes
Class sizes are limited to 6 per class
Session Location
Squash Court 1
Structure
FREE Trial Session before signing up
£37.50 for 5 week term
Term Includes an Pea Wea shirt, stickers at each session and a certificate at the end of the term
Refreshments
The Holbrooks cafe will be open serving hot and cold drinks and a range of food. The clubs new playground will also be available for you to use after each session.
How to Book
To book please call Leah on 07517 221 222 or email leah@peaweagolf.com